---
Some links to products and travel providers on this website will earn Traveling For Miles a commission that helps contribute to the running of the site – I'm very grateful to anyone who uses these links but their use is entirely optional. The compensation does not impact how and where products appear on this site and does not impact reviews that are published. For more details please see the advertising disclosure found at the bottom of every page.
---
Every now and again you'll see some very good Business Class fares offered for travel between Europe and North America but when you spot a fare as low as this one you know you've stumbled across a really fantastic deal.
Right now TAP Air Portugal is offering Business Class flights between Oslo and New York for an incredibly low price and when you add in the 10% discount code that the airline is currently offering Traveling For Miles readers the deal gets even better.
Note: This fare was originally around in early August but after being pulled in the middle of August it has now returned and at a time when a further 10% can be saved off the base fare.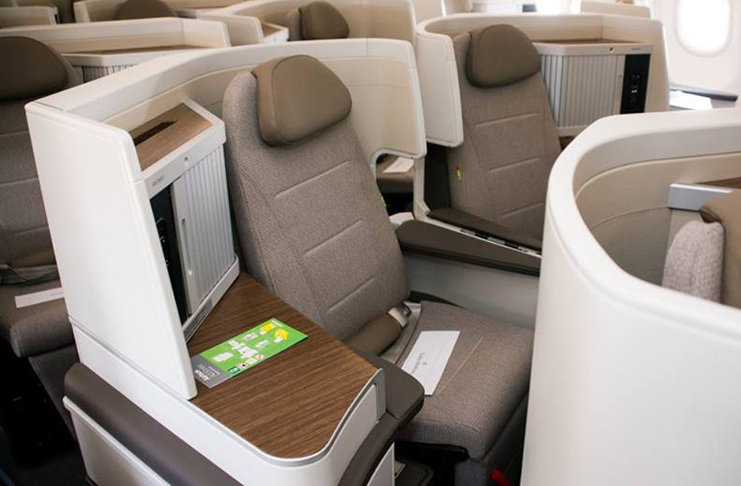 Headline Information
Travel from October through to the end of the current booking period
2 Stopovers permitted – 1 free and 1 at €75.00
A stopover isn't required to get the cheapest fare but taking a stopover opens up a lot more availability at the cheapest price-point.
To get the 10% discount on offer to TFM readers you have to use TAP's US, UK or Brazilian websites.
There is no published cut-off date for this fare so it may be around for a while or it may disappear at any moment – if you find dates which work for you I suggest booking sooner rather then later.
The Fare & Routing
As the headline suggests, the fare originates in Oslo and routes though Portugal before heading across the Atlantic to New York.
All the fares that I've seen route through Lisbon and this is good news because it's on the Lisbon – New York route that TAP offers is new A330-900neo aircraft complete with new Business Class cabin.
if you spot a routing through Porto make sure you check what aircraft is being offered on the transatlantic sector – it may be the airline's A321neo which will not be a comfortable as the A330.
Fare Availability
There are two ways to look at this fare's availability – with an overnight layover (on the outbound) and without an overnight layover. I'm going to show the availability that you'll see if you're prepared to spend a night (or longer) in Lisbon and, at the end, I'll show an example of what availability looks like if you filter out routings that require an overnight stop.
The lowest published fare seems to first appear on a number of dates in October before becoming more plentiful in November…
…and, with the exception of a break for the winter and spring holidays, it's then available on most dates through to the end of the current booking period.
To give you an idea of how availability changes if you filter out any long layovers here are the options for the shortest travel times in February 2020:
It's still not hard to find the fare but the travel dates are considerably more restrictive.
Finding & Booking The Flights
You can use either the Matrix search tool or Google Flights to find these fares (if you're hoping to book a stopover the Matrix tool is probably better) but you have to be sure to book through the TAP Air Portugal website (using this link) to get a further 10% discount.
Google Flights prices up the flights without long layovers pretty easily….
…and if you're going to use the Matrix search these are the parameters I suggest you use (if you don't want to eliminate overnight layovers):
Once you've found dates that work for you, head over to the TAP Air Portugal website (using this link will automatically apply the 10% discount code) and you should find that the fares are pretty easy to price up…
…and that you're offered an option to build-in a layover (if you want to) during the booking process.
Bottom Line
There's no end date for this fare as far as I can see so it may be around for a while or it may get pulled at any moment – don't procrastinate for too long if you find dates that work for you.
At under $1,200 for roundtrip Business Class travel between Europe and the US on a full-service carrier, this is easily one of the best transatlantic deals that we've seen in a while.
Don't forget that even though TAP Air Portugal may not be part of the oneworld alliance (the preferred alliance of a lot of this blog's readership) you can credit your flights to a multitude of Star Alliance airlines (like United MileagePlus or Singapore Airlines KrisFlyer) and still get great value from the miles you earn -life doesn't have to revolve around the oneworld alliance all the time 🙂